News
The Top 5 Graphic Tee Trends of 2023: Uncover the Styles Shaping This Year's Fashion
Jul 23, 2023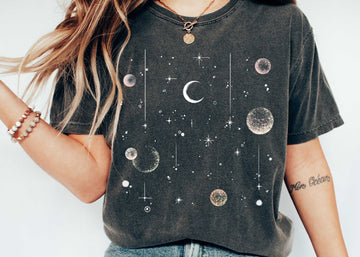 Graphic tees continue to captivate us, providing a canvas for self-expression and creative design. As we navigate 2023, this indispensable wardrobe item is introducing fresh, eclectic trends. Whether you're a seasoned fashion connoisseur or simply seeking to elevate your casual attire, these top 5 graphic tee trends of 2023 are sure to inspire.
In 2023, the mysteries of the cosmos have descended onto the world of fashion, influencing one of the most sought-after graphic tee trends. Celestial-inspired designs featuring intricate galaxies, alluring constellations, and symbolic planetary alignments serve as a passport to the universe's captivating wonder. These tees evoke a sense of mystical intrigue, perfect for those with an appreciation for the enigmatic beauty of the cosmos and a penchant for the metaphysical.
Nature's exuberance is beautifully expressed in the bold botanical trend of 2023. Graphic tees adorned with large, vibrant depictions of exotic flora bring a taste of the wild to your style. These designs add a splash of color and vivacity to your wardrobe, perfect for nature lovers and trendsetters alike.
The skeleton trend in 2023 is offering an edgy, avant-garde twist to graphic tees. Tees featuring artistic representations of skeletons, often intertwined with other elements like florals or texts, introduce a rebellious vibe that's sure to turn heads. This trend offers a unique fusion of the macabre and the artistic, perfect for those who dare to be different.
Graphic tees celebrating our awe-inspiring national parks have gained considerable traction in 2023. Designs that capture the majesty of places like Yosemite or the tranquility of Acadia allow you to wear your love for adventure and nature's splendor on your sleeve.
The quaint, vintage charm of pressed flowers has blossomed onto the graphic tee scene in 2023. Graphic tees showcasing delicate, aesthetically pleasing pressed flower designs offer a touch of romantic nostalgia. They're perfect for those seeking to blend the softness of botanical beauty with the casual comfort of a tee.
Conclusion
From mystical celestial wonders to the vibrant audacity of botanicals and the rugged appeal of national parks, 2023 is shaping up to be a creatively diverse year for graphic tee trends. Each style offers a unique form of self-expression and is an exciting avenue to explore, whether you're a graphic tee aficionado or a newcomer.
Remember, the best graphic tee is one that mirrors your individual style. Find your next wardrobe favorite in our up-to-date collection of 2023 graphic tees today!
Keywords: Graphic tee trends, 2023 fashion trends, graphic tees, celestial designs, botanical tees, skeleton tees, national parks tees, pressed flowers tees.